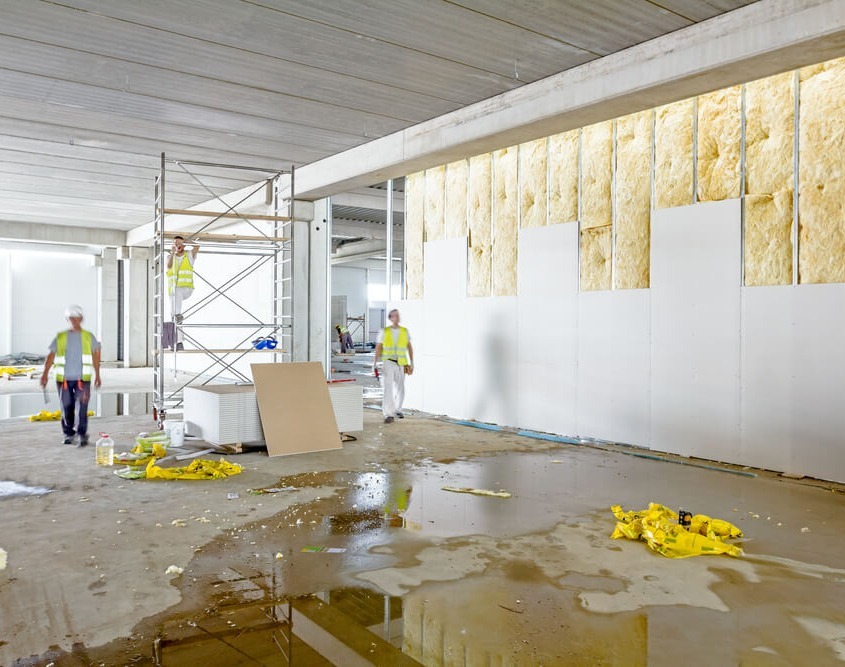 Drywall Takeoff &Estimation: A Simple Yet A Complete Guide| Here's What Matters in Drywall Takeoff & Estimation
If you're looking to add some character to your vicinity's interior, then drywall is the perfect material to use.
A drywall is a wall covering made of gypsum board, which is a type of plaster. Drywall is typically used to cover walls that are less than 10 feet high, and it is also used to cover ceilings. It can be cut, painted, and stained to create a variety of looks. It is popular in the American and European regions due to its affordability and durability. A properly installed wall can make a big difference in the soundness and appearance of your home or office.
But before installing drywall, one should know every detail of the material and cost to save himself the hassle. Expert drywall are available to assist you in making the most of your drywall project. The drywall estimation provides details regarding how much it cost and how much material was required to complete the project. The best services will be given to you by qualified, experienced professionals who are qualified for this service.
Drywall types
Before proceeding with the estimation process let's have a quick look at the most common drywall types. Here're some of the common types of drywalls:
Green Board drywall is water resistant and is commonly used to reduce moisture in bathrooms and laundry rooms.
Whiteboard
It is a fire-resistant drywall with a different number of layers and thickness levels. Whiteboard drywall type is also known as Type X.
Blue board
Blue board drywall is applicable in areas where there is water retention as it is water as well as mold-resistant. Other types include Enviro-board, Soundboard, and
Cement board
The thickness of drywall varies depending on the size of the sheet and the type of surface that it will be covering. The most common size of a drywall sheet is 4ft x 8ft.
Drywall Takeoff & Estimation Process
Step1:
The first step in the general estimating process is taking measurements of each area to know how much drywall will be needed. The estimation of the total square footage for a project is done by measuring the rooms and multiplying them by their height and width to get an estimate of the total linear feet. If the area of interest is a rectangular shape, then you can easily multiply the width of each wall or ceiling by the length for an accurate estimate of much material will cost you.
Similarly, if the roof area is triangular then the area of a roof is determined by multiplying its base by the height, then dividing it by two. In short, you need to calculate the area of each opening and subtract that from the total square feet of an entire roof area to get an accurate estimate of the space where the drywall will be installed.
Step 2:
In the next step, calculate the number of sheets required for drywall. To figure out how many sheets of drywall will fit your needs, you need to know two things: The total square feet of where the wall will go and The size of each sheet For example; if you want 4′ by 8' sheets, then divide the total square footage by 32. If you want 4′ x 12' sheets, divide the total square footage by 48. To estimate the cost, multiply the total number of sheets by the per sheet price, tax included, and delivery charges included.
Step3:
The perimeter of each sheet determines how much joint tape is required for that size, so multiply the number of sheets by their dimensions to figure out the length of tape that will be needed. For a 4'x8' sheet, the perimeter is 16ft whereas, for a 4'x12' sheet it is 20 ft.
Step 4:
The total square footage of the project is multiplied by 0.053 to get the amount of joint compound. The amount of screws needed depends on how many feet you want to cover with your wallboard or paneling installation. To figure this out you need to divide your project's square footage by 300. For corner boards, count the number of outside wall corners of your entire project. You have to include both your profit and overhead costs in the estimated cost.
Why Estimators are required for Professional Services?
When you're working on a drywall project for your home or office space it is technically not possible to do a lot of paperwork altogether, so for this, you need professional help. The drywall estimators will get you through this hassle by doing the takeoff and estimation process for your projects.
They accurately measure each detail of material that will be used in your project with no chances of error. The experts create takeoff plans on Excel spreadsheets by using authentic software. This will make bidding projects easier. The team of skilled estimators is experienced in working with different drywall contractors, designers, and companies for both commercial and residential projects across American and European regions.
Drywall Takeoff Service Range
Here's a glimpse of a wide range of drywall takeoff services. Let's have a look:
Drywall or Gypsum board Estimation
Drywall Project Management
Complete Bidding Assistance
Change Order Management
Color-coded Drawing plans
Project Lead Generation
Acoustical Ceiling Estimates
Metal Framing Estimates
Wood Framing Estimates
Budget Estimates
Bid Estimates
Material, equipment & Labor cost
Drywall Takeoff spreadsheets
Quantification of Drywall material
The estimators have a set category of all types of takeoff sheets for partitions, flooring, sections as well as elevation along with color patterns. The takeoff and estimation service caters to all cliental needs. The followings are the material that estimators quantify:
Acoustic ceiling
Acoustic Insulation
Backing
Blocking
Cement backboard
Clips & Bracing
Corner beads
Drywall sheets
Drywall mud
Drywall taping
FRP
Gypsum Board ceiling
Headers
Joint Tape
Joint Sealant
Metal Studs & Metal Furring
Sheathing
Sheetrock panels
Screws & Corner beads
Thermal Insulation
Conclusively, we assist you with smart bidding that secures more projects for you, the higher the bid ratio the more turnovers you get. Our estimates are comparable with international standards because we follow the strict guidelines of the American Association of Cost Engineers (ACCE) and the Australian Institute of Quantity Surveyors (AIQS) for estimation and quantity control. We have been in business for over years and have helped thousands of customers with our services. Not only this we have 24/7 online customer service for our clients.